Easily Integrate Your Analysis
Maximize your DNBSEQ High-Throughput sequencers
ZTRON Pro and ZTRON Lite servers maximize actionable information from our high-throughput sequencers with fast, easy, locally-controlled data analysis. These systems integrate LIMS with bioinformatics accelerators and high-performance data storage.
ZTRON Brochure
"*" indicates required fields
ZTRON Lite
Automatic and seamless to generate FASTQ files
Through the fast and seamless optical fiber connection, DNBSEQ-T7 uploads raw data (.cal file) to ZTRON Lite simultaneously and then converts them to FASTQ files automatically.

ZTRON-LITE-workflow-1940x575
ZTRON Pro
High Performance and Flexibility
ZTRON Pro integrates a laboratory information management system (LIMS), bioinformatics accelerator and high-performance genetic data storage to manage your high-throughput informational needs. The platform is designed for laboratories and traditional data centers and complies with GDPR regulations.
High-performance computing clusters and embedded GPU+FPGA accelerators provide speedy results and reduce IT maintenance costs. With 500TB or 1PB available space and aggregated storage up to 7GB/s, your labs can easily optimize genomic data storage.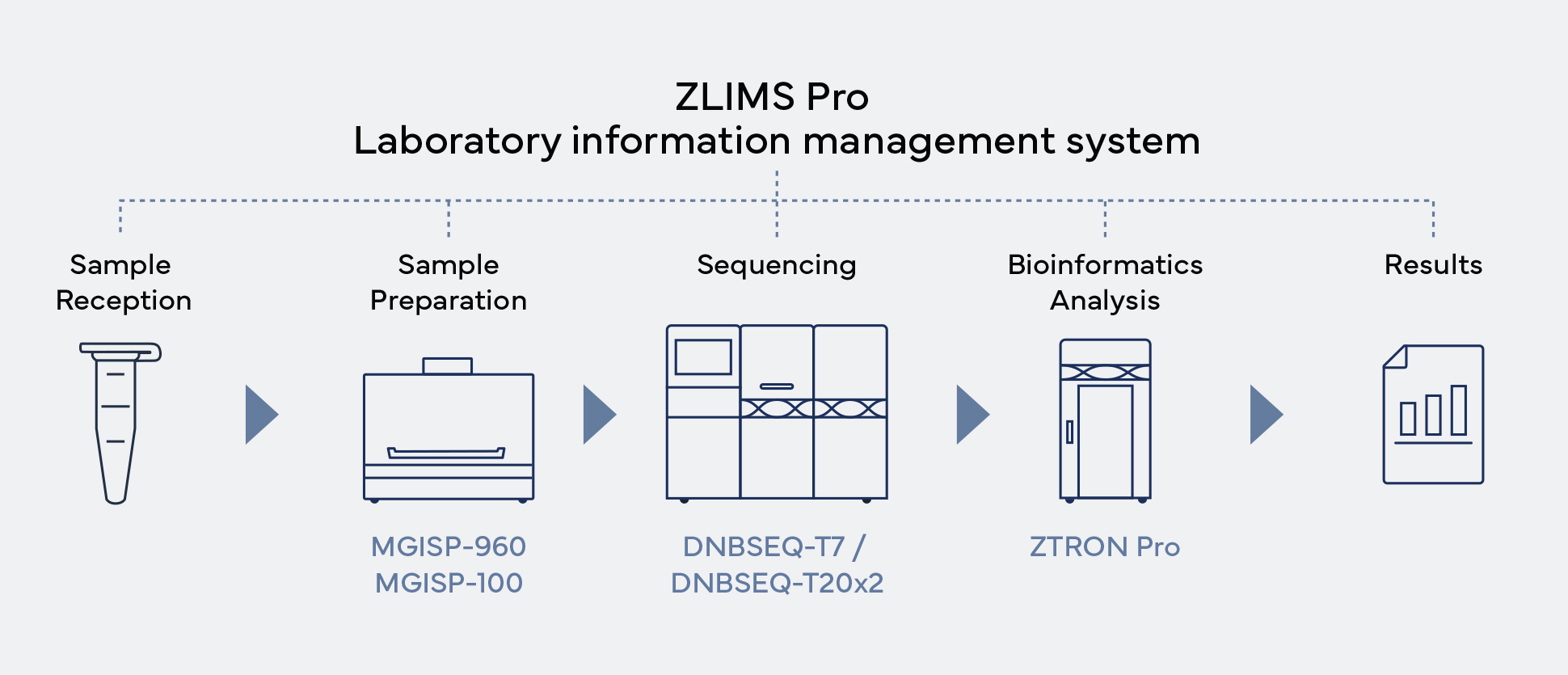 ZLIMS-PRO-lims-workflow-1940x835
ZTRON Pro vs ZTRON Lite
| Features | ZTRON Pro | ZTRON Lite |
| --- | --- | --- |
| Primary Analysis | YES | YES |
| Secondary Analysis | YES | NO |
| Storage Capacity | 500TB or 1PB | 30TB |
| Hard Disk Type | HDD & SSD | SSD |
| Multiple Node | YES | NO |
| ZLIMS Version | ZLIMS Pro | ZLIMS Lite |
| CPU Core amount | 256 | 40 |
| Total RAM | 1TB | 192GB |
| FPGA | YES | NO |
| WGS/WES | YES | NO |
| Additional Applications | YES | NO |
A Complete Solution for
Every Step of Your Workflow