Fully Automated Small Batch NGS Liquid Handling With a Cost-Effective Bench Top Platform
DNA Sequencing Library Preparation System (SP-100)
Our low- to medium- throughput, automated, eight fixed pipette head liquid handling platform optimizes library prep to support massively parallel sequencing.
Features and Benefits
With eight fixed pipette heads, the SP-100 offers a compact, integrated design that incorporates liquid handling, PCR, a magnetic rack, and a HEPA system. This user-friendly instrument rapidly manages DNA extraction to library preparation with a compact, benchtop footprint. Comprehensive automation frees users from repetitive tasks and is easily customizable for multiple applications.
icon-automated
Automated
Batch operation supports ease-of-use and fast turnarounds.

icon-integrated
Integrated
System handles nucleic acid extraction, size selection, DNB production, magnetic bead purification, PCR, and target capture.
icon-intelligent
Intelligent
Flexible interface boosts ease-of-use and customizability.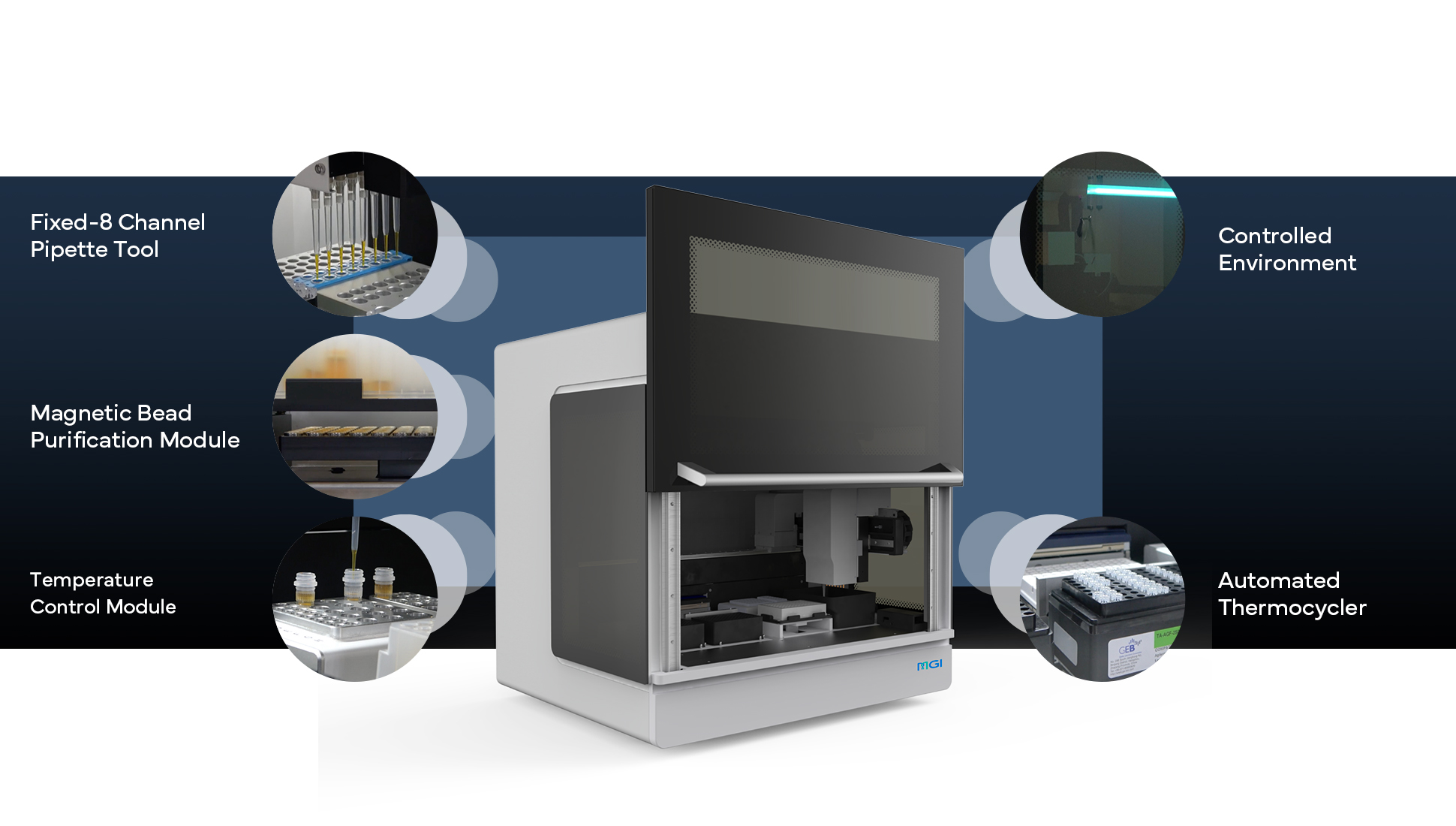 SP100-instrument-callouts-1col-1940x1100
Fixed-8 Channel Pipette Tool
The fixed-8 pipetting tool accomplished liquid handling in rows
The tool also offers single tip pipetting for certain processes
Pipette volume range: 2uL-200ul (use sign for microliter)
Platform combines flexibility and cost effectiveness
Controlled Environment
Enclosed instrument with integrated HEPA filters for operator safety
Dual ultraviolet lamps effectively reducing contamination and aerosols
Magnetic Bead Purification Module
On-deck high magnetic field strength deck module for automated separation methods
Enables fully automated extraction and purification processes
Automated lifting rack eliminates the need for a gripper tool to move the plates
Automated Thermocycler
Integrated PCR module automates for on-deck amplification process
Provides fast and precise temperature control (4 – 99 °C)
Temperature Control Module
Accurate temperature control, range from 40°C – 90°C
SP-100
Completely automated library preparation simplifies and standardizes sample preparation.
A Complete Solution for
Every Step of Your Workflow