Process Entire Microplates for High-Throughput NGS With Low-Volume 96-Channel Liquid Handing Platform
High-Throughput Automated Sample Prep System (SP-960)
With its low dispensing volume, 96-channel pipetting head arm, integrated microplate gripper tool, PCR module, magnetic rack, shaker, and temperature-controlled deck modules, the SP-960 liquid handling platform delivers fast and efficient nucleic acid extraction, RT-PCR, and sequencing library preparation.
Features and Benefits
The SP-960 is our high-throughput liquid handling platform. Equipped with a low-volume, 200uL, 96-channel pipetting tool and an integrated microplate gripper, this instrument can be configured with a PCR module, magnetic separation position, shaker, and a temperature-controlled position to fully support high-throughput NGS. The 24-position deck can be configured to support a variety of library prep kits for WGS, exome/target sequencing, RNA/transcriptome sequencing, amplicon sequencing and other applications.
icon-precise
Precise
Low-volume 200uL, 96-channel pipetting tool ensures accuracy.

icon-flexible
Versatile
24-position deck supports multiple configurations for customizable workflows.
icon-intelligent
Intelligent
Fully automated plate-based liquid handling, with integrated thermocycling, magnetic separation, and temperature-controlled positions, completes full NGS workflow.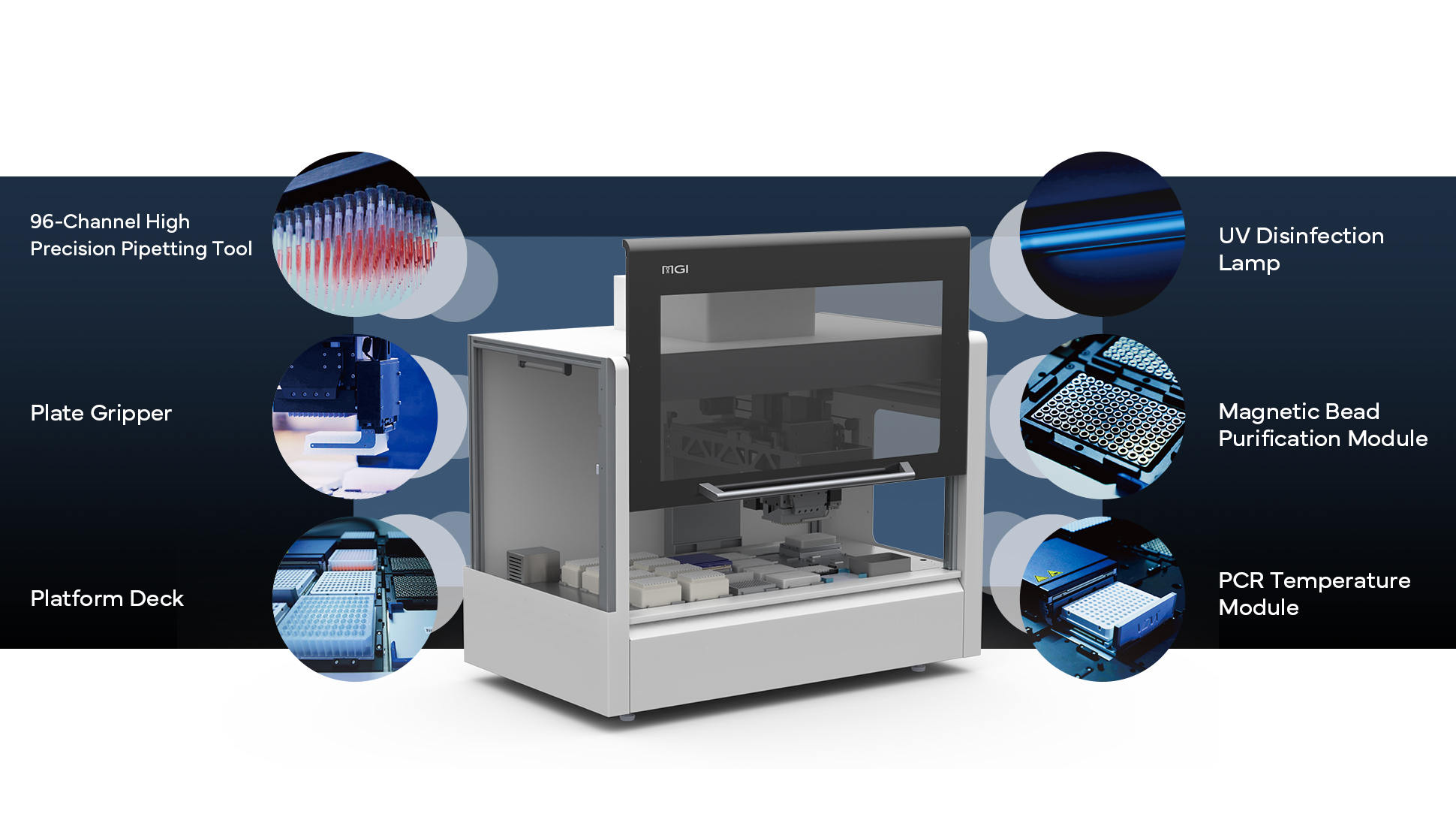 SP960-instrument-callouts-1col-1940x1100
96 Channel High Precision Pipetting Tool
High throughput 96 channel precision 1-200uL pipetting tool
Offers flexibility to dispense/aspirate rows of 8 or full plate of 96 wells
UV Disinfection Lamps
Integrated ultraviolet disinfection before and after protocols
Effectively reduces pathogens and aerosols
Plate Gripper
Integrated on 96 channel pipetting tool
Moves labware plates and lids maximizing deck efficiency Gripper is compatible with a wide variety of labware
Magnetic Bead Purification Module
Fully integrated high magnetic field strength deck module for rapid and efficient separation methods
Enables fully automated extraction and purification processes
Platform Deck
Flexible platform deck with 24 SBS-formatted microplate positions
Available modules include: hot/cold temperature control, shaker, integrated PCR, magnetic plate for bead-based separations Pipetting ranges from 1uL to 1000uL
Automated Thermocycler
Integrated PCR module automates critical steps in sample preparation and reduces manual intervention
Provides fast and precise temperature control (4-99C) to ensure reproducible nucleic acid amplification
SP-960
Process entire microplates for high-throughput NGS applications with our low- volume, 96-channel, liquid handing platform.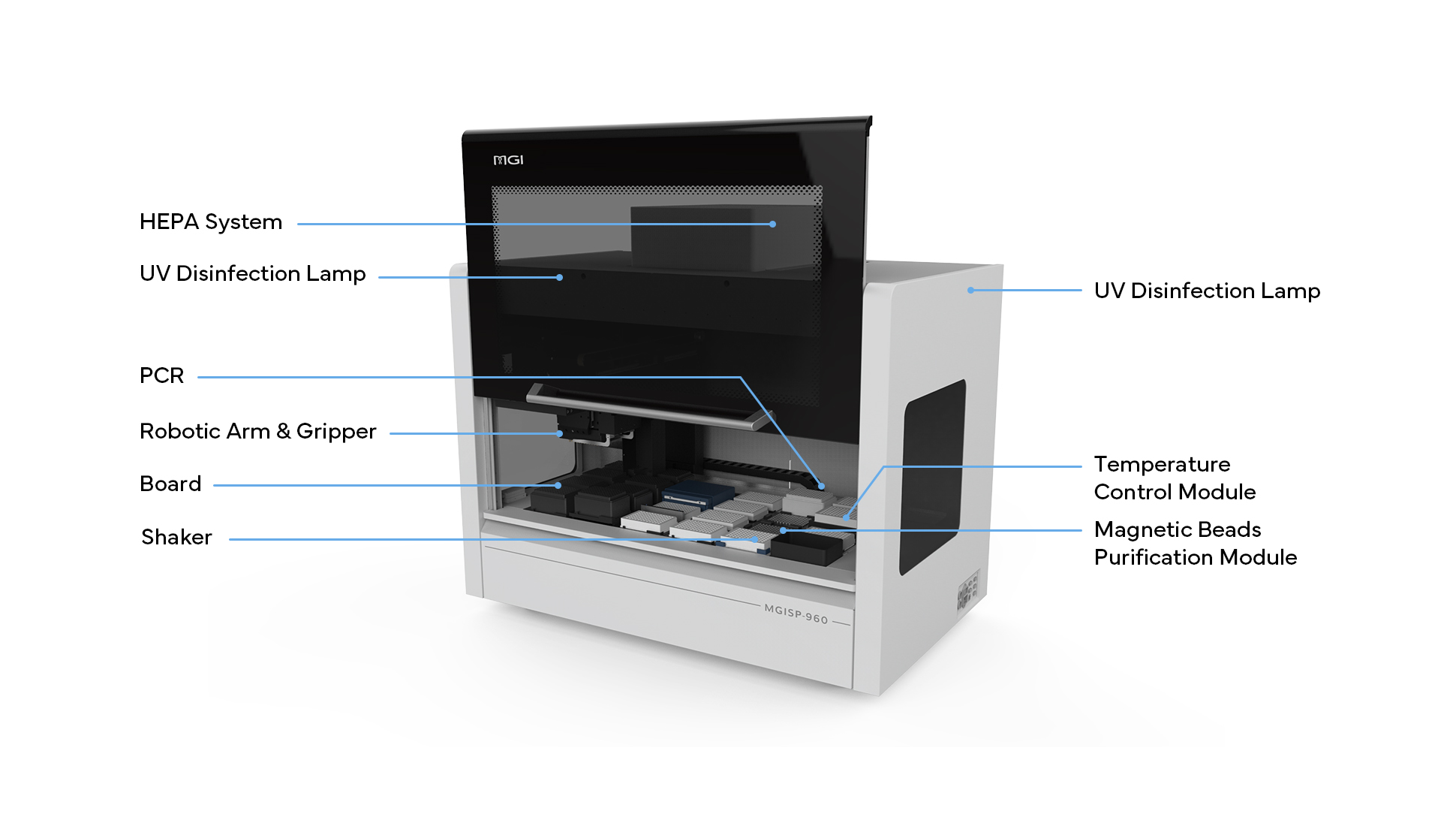 SP960-instrument-features-1col-1940x1100
Workflow

SP960-workflow-ngs-1col-1940x500
A Complete Solution for
Every Step of Your Workflow