Automate Manual Pipetting With Flexible, Independent-Tip Liquid Handling Platform
Eight Independent Channel Pipetting Robot (SP-Smart 8)
The SP-Smart 8 offers automated liquid handling for individual tubes or microplate wells. The instrument delivers flexibility and ease-of-use to set up, run and track processes that would otherwise be pipetted manually.
Features and Benefits
Advanced automation boosts ease-of-use and reduces manual inputs. The Smart 8 preserves valuable reagents, to reduce waste, and is easily configurable with racks to hold test tubes, microplates, and reagent troughs.
Smart 8 integrates on- and off-deck modules, such as thermocyclers, shakers, magnetic plates, and readers to optimize liquid handling. The instrument is easily configured for cherry-picking, sequencing library preparation, sample pooling, sample concentration normalization, pipetting and other applications.
icon-flexible
Flexible
Eight independently-controlled pipetting channels help the instrument access tubes or individual microplate wells to set up any assay or pipetting process.

icon-configurable
Configurable
The Smart 8 has the flexibility to load any required labware and integrate a variety of on- and off-deck modules and is readily configurable to meet your needs.
icon-intelligent
Intelligent
Equipped with integrated gripper to move labware, provide tube/plate bar code scanning, and complete output file tracking.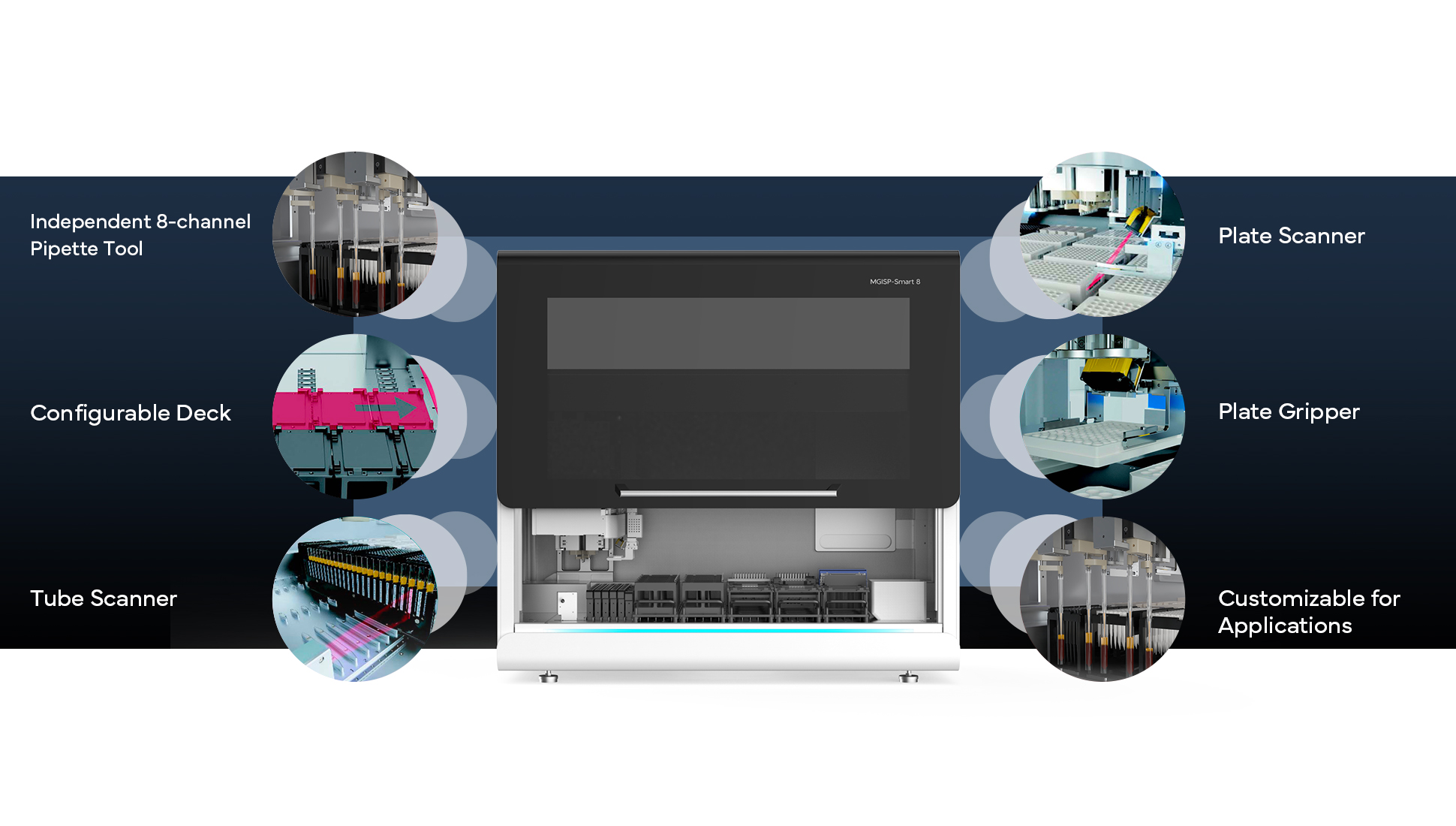 SMART8-instrument-callouts-1col-1940x1100
Independent 8-channel Pipette Tool
Independently controlled pipettes are compatible with a variety of tip sizes
Variable independent channel spacing offers flexibility for protocol designs
Pipetting ranges from 1uL to 1000uL
Offers both capacitive (cLLD) and pressure-based (pLLD) liquid level detection
Plate Scanner
Horizontal plate barcode scanner is located on gripper tool and allows full deck access
Creates data file record of plate and rack position
Configurable Deck
30 independent deck positions offer flexibility for components to support a variety of protocols
Active rack position sensing
Variety of consumable carriers
Plate Gripper
Gripper is included as standard equipment on ISP-Smart8 instruments
Operates on independent drive system
Gripper wrist allows for rotation and off-deck peripheral instrument access
Real-time sensing of the grip force status ensures stability of automated runs
Tube Scanner
Frame mounted vertical test tub scanner is standard on ISP-Smart8 instruments
Scans labware as deck is manually loaded
Produces data file record for tube and rack position
Customizable for Applications
Flexible automated liquid handling workstation for tube or plate applications
Multiple deck options allow customization for automated functions and variety of labware
For use in genomics, cell biology, proteomics, drug development, microbial screening, and more
SMART8
The Smart 8 platform supports many liquid handling operations and applications, reduces manual pipetting, and tracks every transfer.
A Complete Solution for
Every Step of Your Workflow