Complete Genomics Presents at ASHG 2023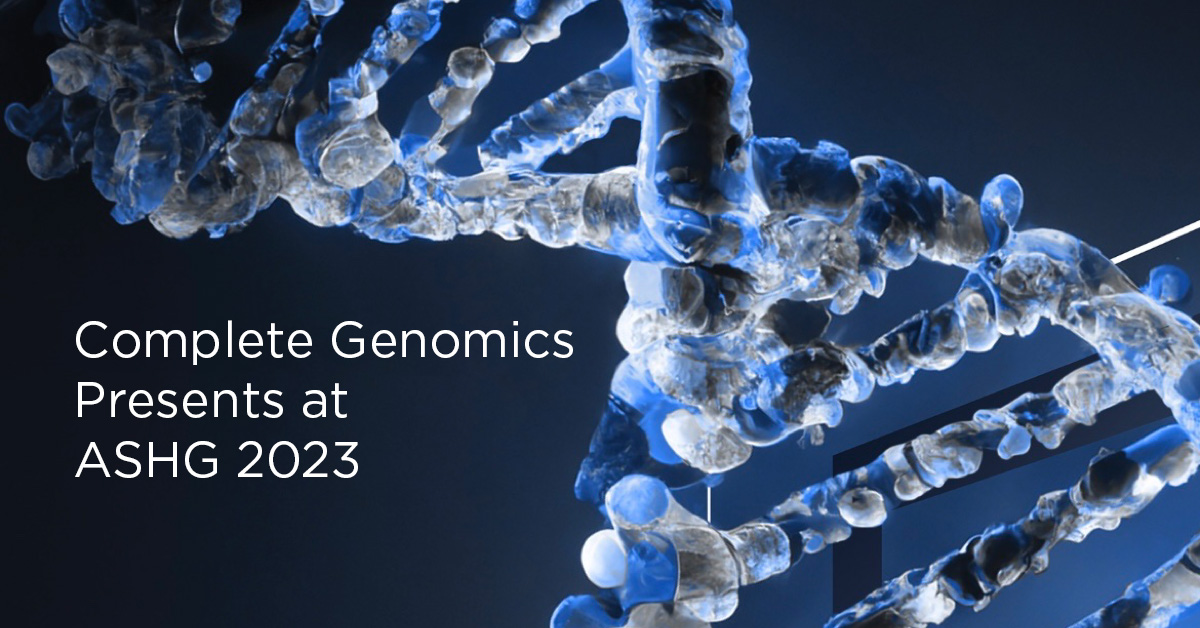 Complete Genomics demonstrates technical and commercial momentum in the sequencing market through new customers, partnerships and collaborations less than one year after launching in the U.S.
WASHINGTON, Oct. 31, 2023 – Complete Genomics, a pioneering genomic sequencing company, announced today at the American Society of Human Genetics (ASHG) Annual Meeting, Nov. 1-5, in Washington details on the commercial and technical momentum it has demonstrated in the last 10 months since launching in the United States market through new customers, partnerships and collaborations.
At ASHG, Complete Genomics will highlight experts from Stanford Medicine, UMass Chan Medical School and Praxis Genomics to discuss how affordable and accurate genomic sequencing is changing the face of research. See the full description of speakers Complete Genomics is bringing to ASHG at completegenomics.com/ashg-2023-event-page.
Complete Genomics 2023 milestones
Based in San Jose, CA, Complete Genomics celebrated its U.S. commercial launch of its DNBSEQ™ sequencing product line one year ago at ASHG 2022. In 2023, the company was recognized by the 2023 R&D 100 Awards in the analytical testing category for its ultra-high throughput gene sequencer aimed at making whole genome sequencing (WGS) affordable for every lab. In February, the company launched its DNBSEQ-T20x2* product, which reduced the cost of whole genome sequencing to less than $100 per 30X WGS. In June, with updated mission "driving genomics forward with complete sequencing solutions that improve lives", Complete Genomics celebrated the 18th anniversary of its founding, and a partnership with Invivoscribe to develop and commercialize a biomarker test for oncology and cancer research.
New customers, partners and collaborations
In the last 10 months, Complete Genomics has developed exciting customer relationships including Nebula Genomics, a personal genomics company that provides access to affordable whole genome sequencing and develops technology to protect genomic data privacy.
"We were one of the earliest companies to install a DNBSEQ-T7 in the United States and we are the only company with a high capacity DNBSEQ-T10x4 in the United States offering the lowest cost whole genome sequencing in the country and probably in the world," said Ted Karkus, CEO of ProPhase Labs and its wholly owned subsidiary, Nebula Genomics. "The initial response from the industry has been tremendous. With demand growing, we are excited to be building additional capacity by adding another DNBSEQ-T10x4 before year-end and collaborating with Complete Genomics to build advanced automation features," he said.
"We look forward to continuing to build our partnership with Complete Genomics and see a very bright future between our respective companies," said Karkus.
Another Complete Genomics customer, Dr. Chuanyi Mark Lu, Professor and Vice Chair, UCSF Dept. of Laboratory Medicine; Chief, Lab Medicine Service, San Francisco VA Healthcare System, said, "We are excited to learn the availability of high quality and cost-effective DNBSEQ technology platform, which will undoubtedly help address the expanding sequencing-based testing needs for various clinical specialties."
In a collaboration with Google, Complete Genomics demonstrated the accuracy of its DNBSEQ high throughput sequencing platform in Google's recently released version of DeepVariant with newly trained DNBSEQ data (Both DNBSEQ-T7 and DNBSEQ-G400).
"We're impressed by the performance. The newest release of DeepVariant v1.6 includes a model retrained for DNBSEQ T7* and case study with public data. The WGS results for that data show higher SNP and INDEL F1 than in our NovaSeq example," said Andrew Carroll, Product lead, Genomics, Google AI.
Finally, Complete Genomics has developed partnerships to build its compatibility ecosystem, including the forthcoming New England Biolabs NEBNext library prep kits, a range of library preparation solutions from Integrated DNA Technologies (IDT) to enable seamless adoption of DNBSEQ platforms without the need for library conversion, and the integration of Bio-Rad Laboratories' SEQuoia Complete and SEQuoia Express RNA sequencing library prep kits with the DNBSEQ-G400* sequencer system.
"The transcriptome profiling results showed reliable and reproducible RNA-Seq results across varying RNA input," said Steven Blakely, Senior Director of Global Marketing for Gene Expression Business & Software Strategy, Life Sciences at Bio-Rad.
"The SEQuoia Complete and SEQuoia Express kits' compatibility with the DNBSEQ-G400* closely matches results from industry-standard benchtop sequencers. This is a remarkable outcome given that the unique rolling circle amplification technology used by the G400 differs from the standard sequencing by synthesis method of the industry standard," Blakely said. "Our collaboration with Complete Genomics underscores our commitment to providing researchers with advanced solutions for sequencing applications."
About Complete Genomics
Complete Genomics is a pioneering life sciences company that provides novel, end-to-end DNA sequencing solutions. It has been at the forefront of high-throughput sequencing technology development since its inception in 2005. Our products have powered over 6,200 publications across a wide array of applications. To learn more, visit www.completegenomics.com.
* For Research Use Only. Not for use in diagnostic procedures.
Media Contact:
Betsy Yates
Complete Genomics
[email protected]